For years I've searched the Google Play Store (and sometimes – the Apple App Store) for any HEMA apps. Naturally, what popped up was mostly fantasy games.
But about 5 years ago I finally got one – one many of you might be familiar with, and which I will present in a moment.
And in the last 2 years, even more apps have shown up on the Play Store (iPhone users can only blame Apple for not getting any).
There are generally three types of useful apps for HEMA – for treatises, cutting drills and scoring. Yes, it is a short list – because they are only a handful, and the last category is mostly tools for scoring modern fencing.
In this first article of three, we will look at the two treatises reference apps – Pocket Armizare and Pocket Meyer.
Pocket Armizare – all of Fiore in your pocket
It's awesome and yet sad that Pocket Armizare pretty much stands out as the best HEMA app, and it has been 5 years since it came out.
This app is a reference including both text and illustrations from different treatises of Fiore dei Liberi from the 15th C.
The magic of this app is that like Wiktenauer, you can check the same topics in multiple different copies of the source. The Getty, the Pisani-Dossi, the Morgan and the Florius manuscripts.
For example, you can be reading the 2nd Master of the Longsword Gioco Largo. If you have opened the PD, you can click a button and check out the same play in all other three sources, in text and image when available.
For a source like Fiore, where comparing and contrasting slight changes across different copies is a key component for interpretation, this is great. All translations and images are from Wiktenauer.
The app is otherwise simple, easy to use, and completely free (and open source, and just 42Mb). It even had a space for notes under every single play. I'd love a black mode, but that's just nitpicking.
We can thank Eric Miller, who created it for the Northwest Armizare Fencing Club in Portland Oregon, but hoped:
"…that the Historical European Martial Arts community as a whole can also enjoy and benefit from this application in their pursuit of learning and studying this martial art."
Download: Google Play Store І ApkPure
Pocket Meyer – a project in development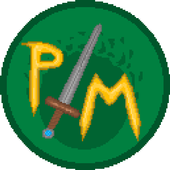 It is no surprise that the Pocket Armizare created its own category, and I wouldn't be surprised if we see Pocket Talhofer next.
Pocket Meyer: HEMA Longsword is the same basic type of app – a reference with links and subpages. And more specifically, descriptions of fundamentals in Joachim Meyer's longsword, such as primary and secondary guards and cuts, as well as handworks from Meyer.
Like Fiore, Meyer has several copies, even recently a new one, but you can only see part of one here – the 1570 Gründtliche Beschreibung der Kunst des Fechtens printed treatise, based on the Jeffrey Forgeng translation.
The creator – Tyler Weaver – says he has plans to add videos with the techniques. He doesn't seem intent to add other weapons or treatises to the app down the line.
At this stage, this app is a bit unfinished, but it is a good quick reference for anyone beginning to study Meyer.
Download: Google Play Store І ApkPure
Next time – the cutting drill maps. Can they really be viable training tools?